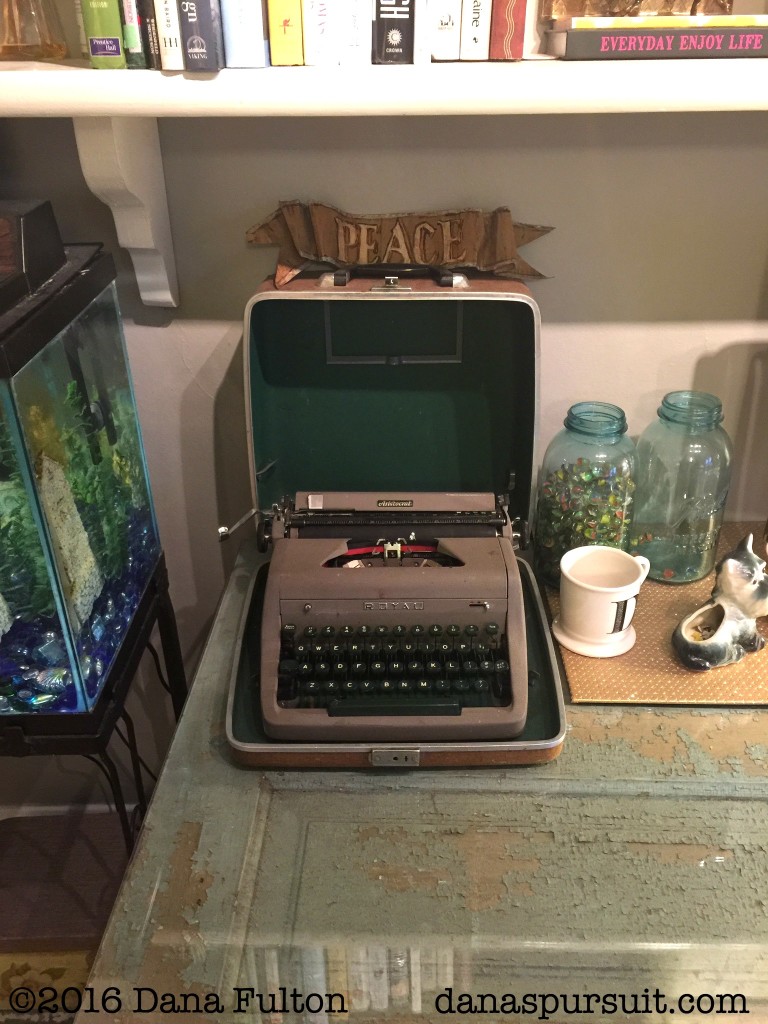 This is a big day for me!  I have been working on this room for several months and finally have it ready to share with you.  To summarize the project, this room has been a bedroom for the past 20 years.  First for our daughter, Lauren, then for child #3, Lance.  Both are now grown and living in their own places and the room sat unused.  I had wanted a place of my own for years and this looked like the perfect time and place.
We emptied the room,  cleaned, patched, repaired, primed and painted all of the walls and woodwork.  The walls are Sherwin Williams Pussywillow, the trim and various projects throughout the room, SW Dover White.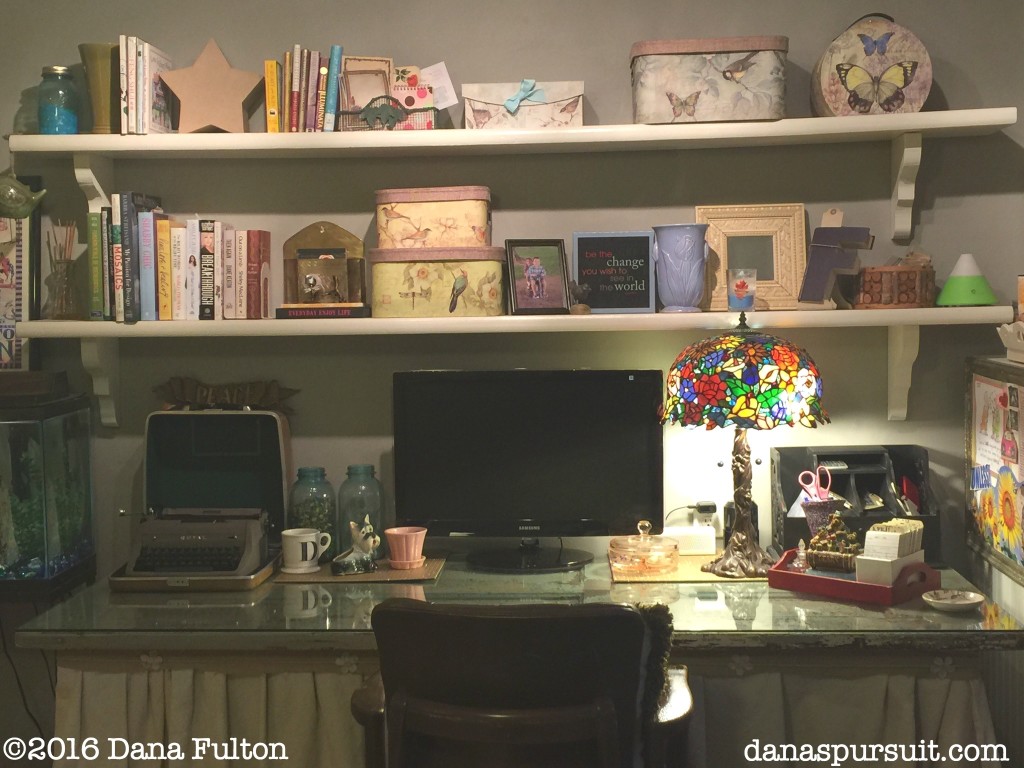 My desk is an old, chippy door that we saved from the scrap pile.  I just loved the layers of exposed paint and did nothing to it other than to gently clean off the cobwebs and obvious debris.  Jack built the base, we had glass cut for the top, and I skirted it with drop cloth.  Above it are shelves that we recycled from the old waterbed.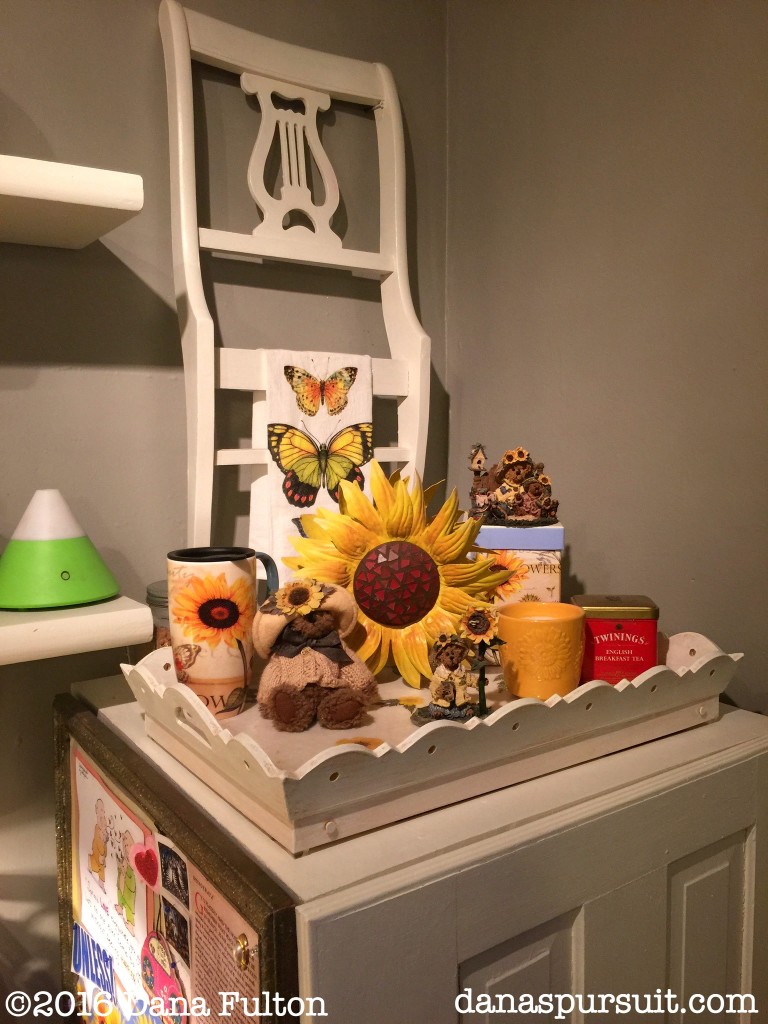 The refrigerator/microwave cabinet and chair back/towel rack are next door in the corner.
The room has fantastic windows that are west facing and look out into trees.  It's like being in the top of a treehouse.  The window shelf is the footboard of the waterbed.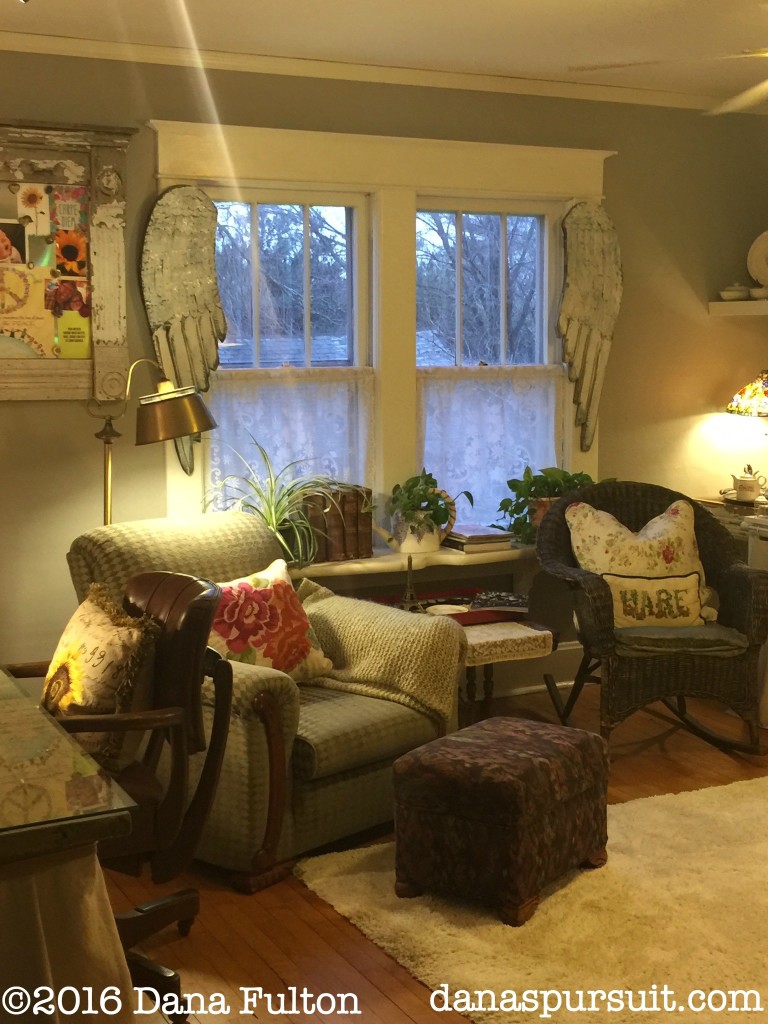 I wanted a comfy chair with a good light in which to read, an ottoman and a chair to welcome a friend.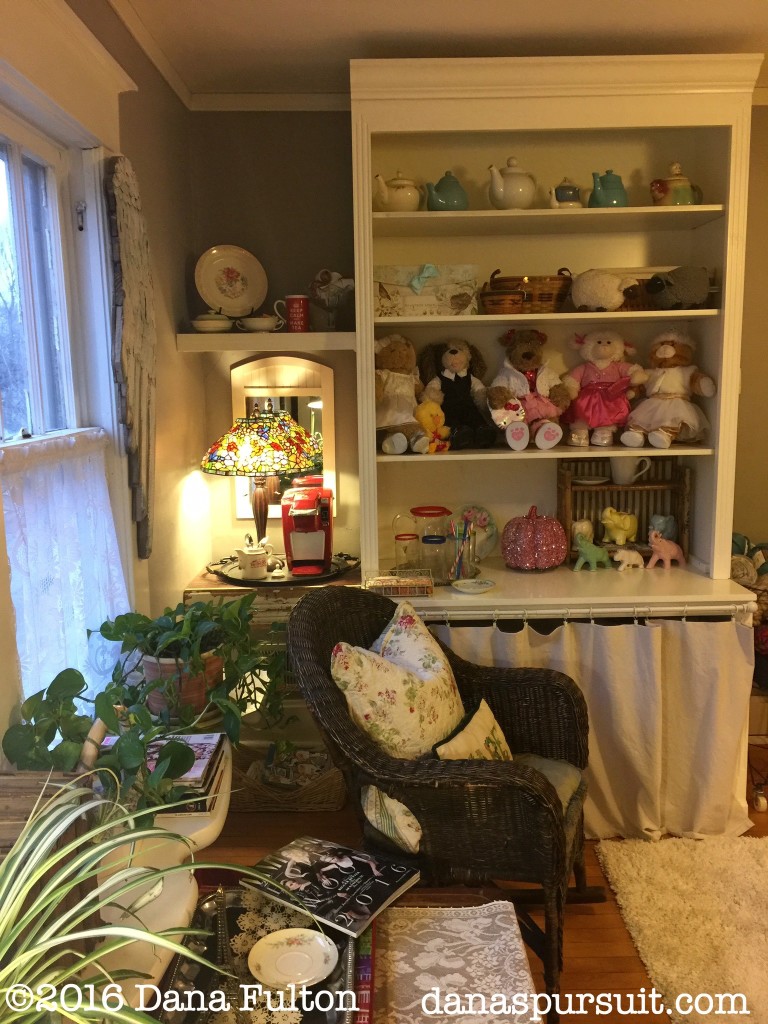 The unused corner is now ready to serve tea or coffee to friends and guests.
The shelving unit was once in our dining room but never really was at home there.  It clearly was meant to be in this room.  It is now home to my Build-a-Bear "kids" and much needed storage.
The long wall holds the workhorse of the room.  The cabinet is the headboard of the old waterbed and is a perfect place for the TV and art supplies.  Under it is another door turned into the "papa bear" glass topped work table, under that is the "mama bear" sewing table, and then the "baby bear" photography/display desk.  All on wheels for easy access.  I skirted the front and sides of the top table to dress it up and to hide the workings below.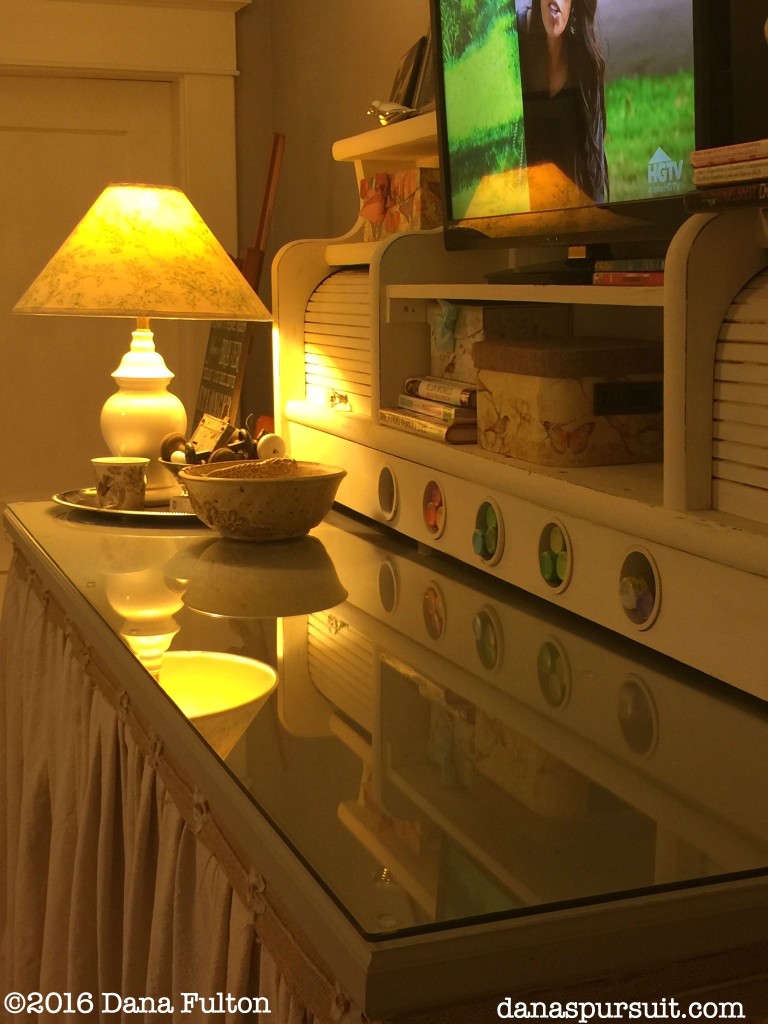 This room is everything I wanted and more.  I can knit, read, sew, write my blog, paint, snuggle in for good movie, drink tea, visit with friends or have a business meeting.  It has also served as a overflow guest room with an inflatable queen sized bed.  It is warm, welcoming and oh-so-functional.
I would be remiss if I did not show my gratitude to my beloved baby sister, Nancy, for spending time away from her family in Arkansas to help me kick-start this project.  She is a "worker-bee on steroids," the opposite of me, yet the better part of me.  She is a creative superstar and I adore her.  Thank you, Clara.
None of this could have happened without my husband, Jack.  He is one-in-a-million and I am blessed beyond measure to have him to share this life with.  Don't worry, baby.  This is just the first of many rooms in this house we are going to tackle together!!  I love you!!
Here is a slideshow of the whole room.  I hope you enjoy it!
For Chrome Browsers
For all other browsers:
So there you have it, friends.  My special place.  It's been a joy to share it with you.
Until next time…