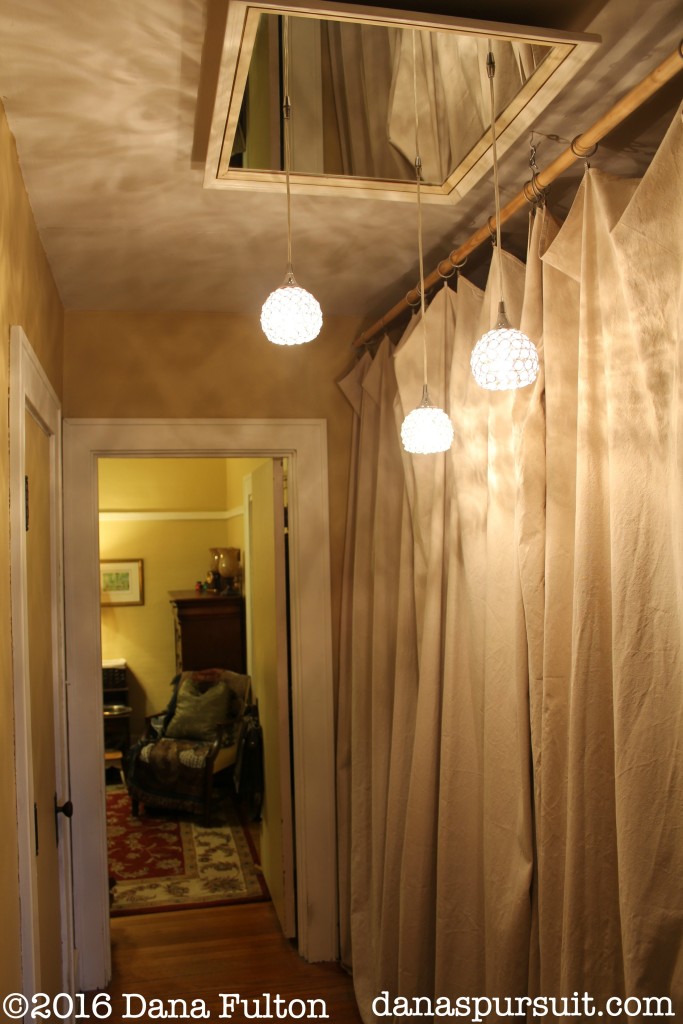 In the on-going saga of updating our sweet, old Craftsman, I am going to show you our closet.  As we have discussed in previous posts, houses built in the 1920's were not built with big closets.  I'm not sure why.  Did people not have wardrobes back then?  Were they tiny little people that didn't require much storage space?  Were they just better at organization than we are?  I don't know but I do know that the Fulton Family need more closet space than existed when we moved in.  But what to do when there is no space? You have to create it.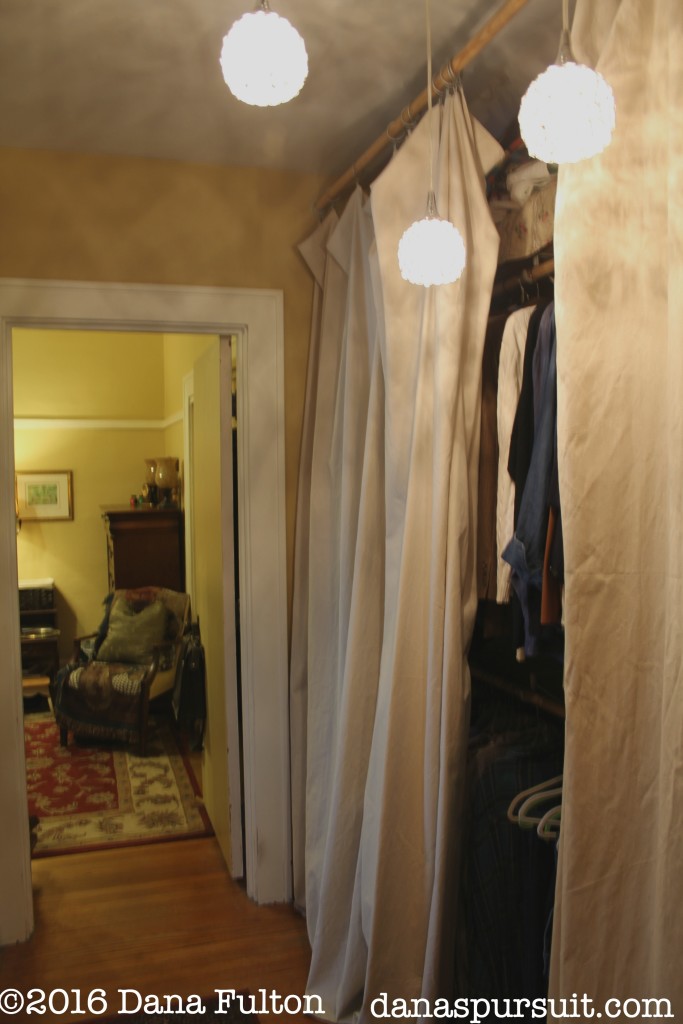 Our smallish master bedroom suits us.  It's cozy and comfy and we have been quite happy within it's walls.  There is one double closet with old style sliding doors.  But try as I might I could not make it work for Jack and me and all of our (ok, fine, mostly mine) stuff.  So when the time came to make some changes we didn't hold back.  Changing the opening to the stairwell from the hallway outside our bedroom to the dining room was a big move.  There was a cabinet that was next to the banister in the hallway which we moved to our sunporch to hold the small kitchen appliances.  With those changes made we had an empty wall.
We put wall to wall closet poles at the top of the ceiling for the curtains, another high under built in shelving and another lower about three feet off the floor.  We (truly) divided the space in half and that works really well for us.  The shelf holds extra blankets, quilts and pillows. Because the space is so unusual I wanted to finish it off with something really pretty.  I knew if we constructed built-in door frames it would make the already small hallway smaller.  There are already four doors opening into it.  So from the top pole I hung four long curtains made of drop cloths.  I love them.  They look full, dramatic, elegant but were very inexpensive.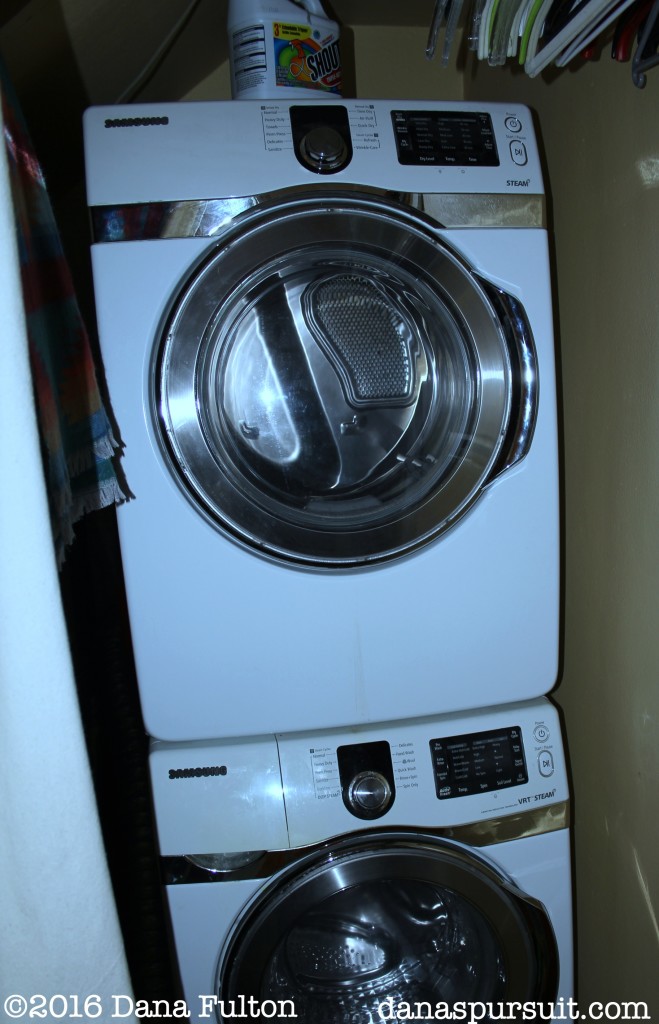 The other big change we made in the hallway was to move up the washer and dryer from the basement.  My big goal was to make the whole section of the house into a master suite.  I had seen shows where the homeowners had put the washer/dryer in their master closet or hallway and knew that was for me.  There is a funny little hallway leading from the dining room into the master hallway.  I had the idea of putting an old door that we had in that doorway (there had been a door there at one time but it was long gone) and blocking off that little hallway.  We bought a stackable kit from Lowe's and, as luck would have it, the stacked full sized washer and dryer fit like a glove in that space.  It has been such a luxury to have it right here at my finger tips.  I hang up the majority of our laundry to dry in on our bathroom on the shower rod.  It has been such a great solution and I have been so happy with the arrangement.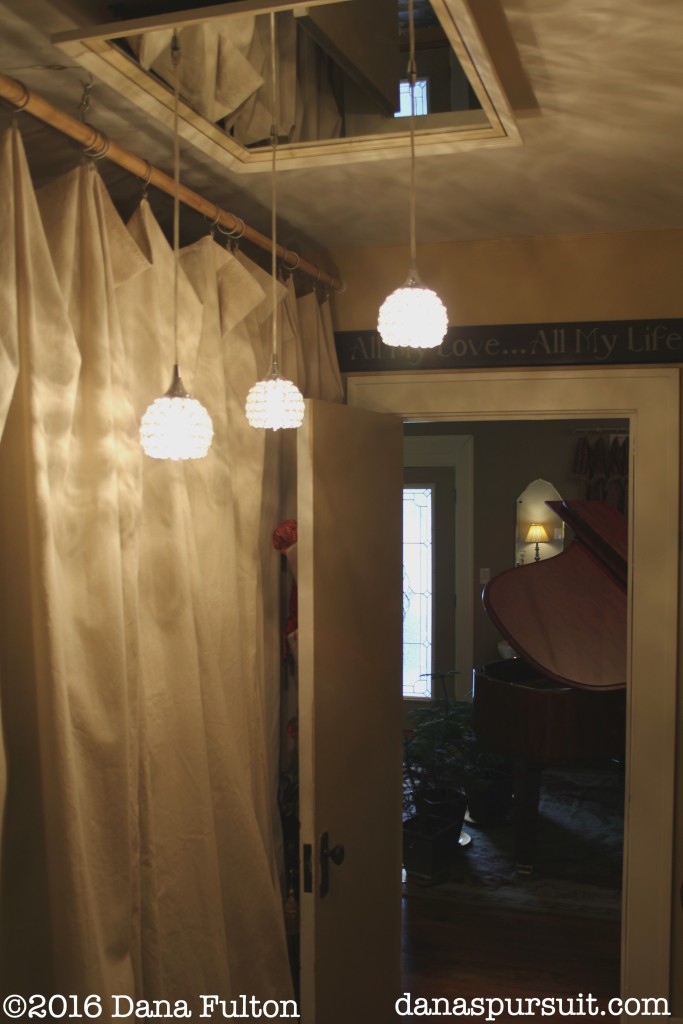 OH…you might wonder what we did with our old closet.  We put in a Rubbermaid closet system.  It holds shoes, Jack's dress slacks, shelves for purses and folded items, my rolling wire shoe basket and the dirty clothes hamper.
A big project but so worth it.
Until next time,