It's Friday, chickens!!
I've had a busy and productive couple of days which is a colossal feat considering I'm in my winter semi hibernation.  Those of you that know and love me know that I'm not a domestic goddess.  I have never been one of you who delights in cleaning my house.  I enjoy a tidy house but loath the actual act of cleaning.  I openly admire those of you who enjoy cleaning your homes and I know a number of you who are a marvel at it.  Jack and I share the duties and get them done but there is no real enjoyment in the doing.
I love to decorate my house, to paint and plan, to change and fluff, to choose fabrics and create vignettes and to dream of the beautiful rooms I want to create.  I could do that all day long!  I just don't enjoy doing the mandatory maintenance.
That, however, changed a little for me this week.  I had a mini breakthrough.  Ok…maybe breakthrough is overreaching, but I definitely found some satisfaction in a simple cleaning task and thought I'd share it with you.
Our bedroom has been long overlooked.  So much so that my dresser, which is a lovely piece of furniture, could really not be seen.  There was not one square inch of surface showing.  It was stacked and piled with months, nay I say years, of stuff.  Nothing major, just the day to day stuff of life.  I woke up yesterday and thought, "This is horrible.  Do something!" So I suited up and went in, first notifying Jack in case I wasn't heard from again.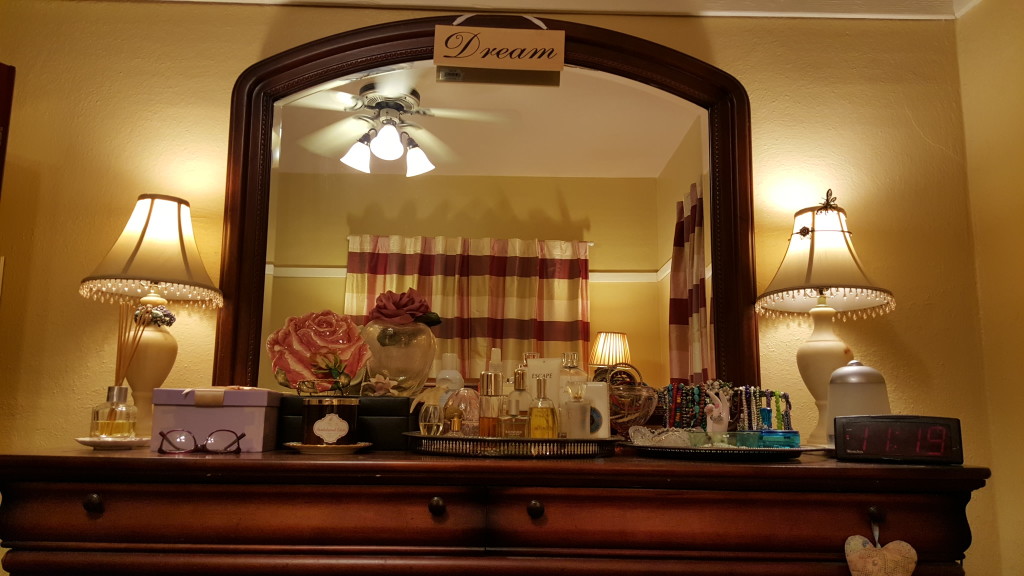 I was brave but determined.  I sorted, put away, threw away, wiped, washed, cleaned, polished and rearranged.  It was brilliant!  So I thought, why not do the whole room?  I was already armed and dangerous!  We heartlessly vacuumed up the screaming dust bunnies, dusted, sorted and regrouped.  I am really impressed and proud of us!
I can see why you domestic goddesses deserve your crowns!  I am pooped and ready for a day or two back in my cave.  But I'm also proud and happy.
Wishing you a great weekend!
Dana