Fall has arrived in southern Indiana.  Friday brought rain and cold which did it's best to halt the high school sporting activities such as the boys tennis sectionals and football senior night.  Tennis was cancelled but hearty souls prevailed at the football game as the fall senior athletes and their parents were introduced and honored, leaving happily drenched.  The band wisely ran for cover and many of the fans threw up their soggy hands in surrender, but the game played on.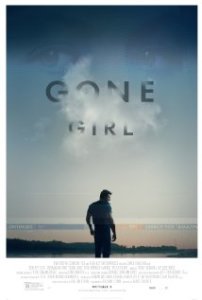 Jack and I did what we love to do.  We went to the movies to see "Gone Girl."  I had purchased and read the book by Gillian Flynn several years ago and was intrigued at the idea of it being made into a movie.  Ben Affleck and Rosamund Pike lead a terrific cast in this eerie thriller.  I can't talk about the plot too much without giving it away but here's the gist.  Nick and Amy Dunne are a married couple of 5 years who are grudgingly transplanted to Carthage, MO from NYC thanks to the economic downturn and the terminal illness of his mother. She succumbs to her illness and they are stuck both geographically and emotionally.  When Amy disappears all eyes are fixed on Nick as the obvious culprit.  But is he?  This movie is beautifully and artfully directed by David Fincher.  The standout for me was Tyler Perry as Nick's super-star attorney, Tanner Bolt.  Great acting, strong story, well-crafted direction all make Gone Girl a winner.  4 stars in my book.
Saturday was spent resting.  The highlight of the day was a Facetime visit with our daughter, Lauren, and her husband, Jed, in Germany.  She had gotten her birthday box from us and we got to enjoy her opening it.  The next best thing to being there.  Such a nice treat for all of us!
Sunday was Lauren's birthday and also the birthday of my great-nephew, Dominic.  A big day!  We were needed at Lucas and Courtney's to help hang some artwork and Jack installed a pretty chandelier in their laundry room.  It's such a nice, warm house and they are making it theirs, nesting and getting ready for the big arrival in December.  We are all so excited!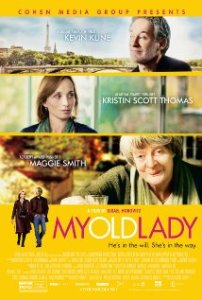 We took in one more movie that we'd been wanting to see for a number of weeks, ever since we saw Kevin Kline at IU.  His latest movie, "My Old Lady," is based on the play of the same name.  Kline plays Mathias Gold, a man from NYC who is down-on-his-luck and has just inherited a big apartment in Paris from his departed father.  Upon arriving in Paris to assess the property he finds that the apartment is occupied by Mathilde Girard (Maggie Smith) and she has the right to live there until her death.  Furthermore, Gold cannot sell the apartment until that comes to pass.  What ensues is a wonderful story of human connectedness, of seeing both sides of the story, of understanding, letting go and forgiveness.  It was easy to enjoy this movie because I am a big Kevin Kline fan.  But Maggie Smith and Kristen Scott Thomas as Mathilde's daughter, Chloe, are tender and vulnerable and completely engaging.  I love Paris and this movie made me yearn for another trip.  If you have the chance, please go see this gem.  4 stars for sure.
Here's wishing you a wonderful week!
Sending love and light your way,
Dana